Description
Be sure to have a supply of LippEase™ on hand. Our monthly subscription ensures that you will be prepared to defend yourself against outbreaks at all times! LippEase™ is the culmination of decades of herbal and holistic health research aimed at reducing the painful effects of cold sores caused by HSV-1 outbreaks. Take LippEase™ daily or at the onset of an outbreak to keep the cold sore from appearing at all. Start Living Cold Sore Free – Sign Up Today.
Suggested Use & Dosage:

For daily immune support, take 1 tablet daily.

If you feel early symptoms indicating the onset of a cold sore, take 2 tablets immediately, then 1 tablet every 4 hours until symptoms disappear. Make sure that you do not exceed these dosage recommendations unless you have been told to do so by your healthcare professional. Consult with your doctor or healthcare professional prior to taking LippEase™ if you are taking prescription medications.

In the unlikely event of an unfavorable or adverse reaction after using LippEase™, immediately discontinue use and consult your doctor or healthcare professional. LippEase™ is intended for adult usage only. Keep out of reach of children. Do not use this product if you are pregnant or breastfeeding.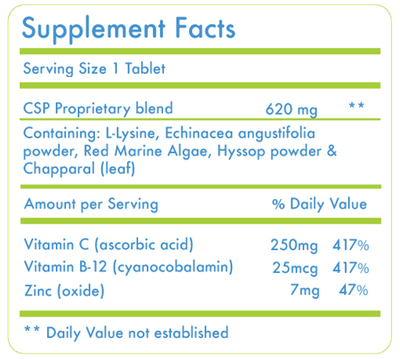 Other Ingredients: Microscrystalline Cellulose, Dicalcium Phosphate, Croscarmellose Sodium, Stearate Acid Food Grade (Vegetarian), Vegetable Magnesium Stearate, Silicon Diozide, Pharmaceutical Glaze & Talc. Live Cold Sore Free Today!